Grades 3–6
Tuesday, February 27 • 6pm
Cost: $20 per person
Register by February 22.
Guest Speaker: Emmanuel "Manny" Ohonme
Founder of Samaritan's Feet
Hosted by the PDS Parents' Association

PDS School Attire
Seating assigned by grade. Seating by grade not guaranteed after February 22.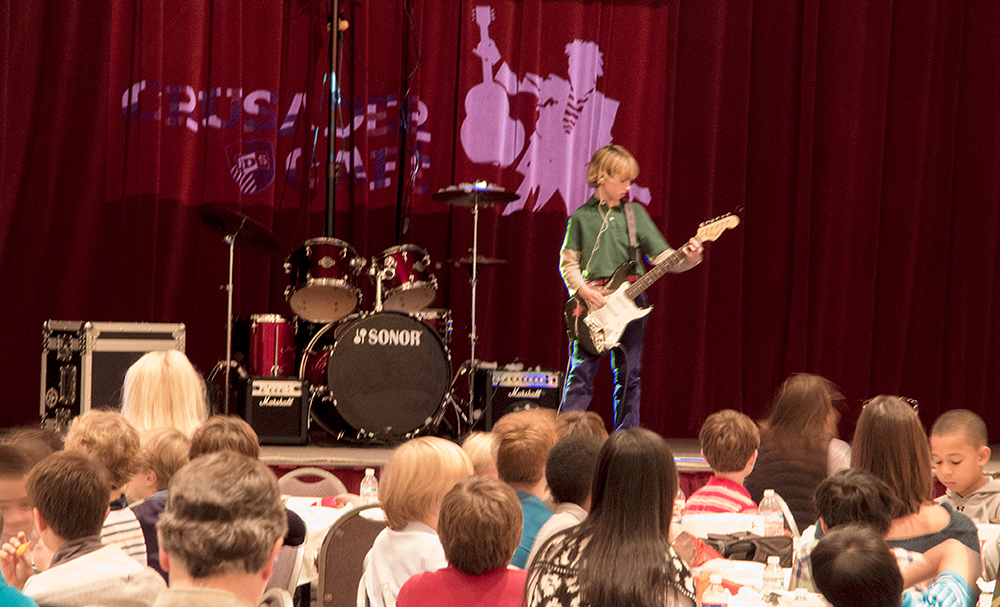 Welcome to the Crusader Cafe: Amidst the chicken sandwiches, chips, classical and classic rock music, and cheers, classroom lessons are stashed when no one's looking.
Read The Gift of Music - Crusader Cafe, for a primer on Presbyterian Day School's Crusader Cafe:
The Gift of Music
Crusader Café is back for another year!
Crusader Café is held during lunchtime and is a time where a boy can showcase his musical talents to his peers and others. Again, we will be dining and entertaining everyone in the Fellowship Hall.
Dates for the Café
Thursday, October 19
Thursday, January 25
Thursday, April 19
Thursday, March 1 - NEW
There are 2 requirements your son must meet in order to play at Crusader Café.
He must be taking lessons (If he is not taking lessons, he must audition for Mrs. Southerland)
He must be practicing regularly
"Practice isn't the thing you do once you're good. It's the thing you do that makes you good." Malcolm Gladwell Outliers
Please use the spreadsheets linked below to view available time slots (each date can have 5 boys maximum per grade signed up). Please enter your child's first and last name and his homeroom teacher's name on the date you would like.
1st Grade • 2nd Grade 3rd Grade • 4th Grade • 5th Grade 6th Grade
We are pleased to offer an athletic program that builds throughout your son's 4th–6th grade career. Our program emphasizes safety, instruction in the fundamentals, teamwork, and participation for all players.
We offer Intramural tackle football, basketball, and soccer to 4th – 6th grades. In addition to our Intramural leagues we offer a competitive program called Crusaders with a track team (6th grade) and new for 2018: tennis (6th grade).
More Information and Online SIgn-Up:
Registration Deadline:
Please register by Friday, February 2.
Dear Parents,
Games missed on Friday, January 12th will now be played on Thursday, February 22nd at 3:25pm.
Celtics vs. Suns (East 1)
Rockets vs. Spurs (East 2)
Grizzlies vs. Cavs (West)
Games missed on Wednesday, January 17th will now be played on Tuesday, February 27th at 3:25pm.
Suns vs. Cavs (East 1)
Rockets vs. Warriors (East 2)
Celtics vs. Spurs (West)