Games Galore - SK - Session 2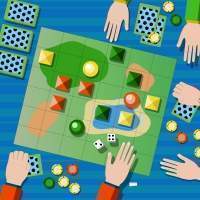 For Grades: Senior Kindergarten
JOIN US FOR AN AFTERNOON OF STIMULATING FUN DURING OUR "GAMES GALORE CAMP!
Come in for a fun afternoon and don't forget to bring your game face! During this fun-filled hour, we will enjoy learning how to master stimulating board games! We will participate in group thinking and brainstorm the best strategies for each game. We will also learn how to better work together, and learn how to win and lose with grace and class. We will be enjoying time with one another and will also enjoy a snack! You don't want to miss out on the fun we will be having…and, as an added bonus, during all the fun, we will be mastering many skills without even realizing we are learning! Below are some of the wonderful things board games do for our brains, both socially and cognitively!
Board games are rich in learning opportunities. They satisfy your child's competitive urges and the desire to master new skills and concepts, such as:
number and shape recognition, grouping, and counting
letter recognition and reading
visual perception and color recognition
eye-hand coordination and manual dexterity
Board games can also teach important social skills, such as communicating verbally, sharing, waiting, taking turns, and enjoying interaction with others. Board games can foster the ability to focus, and lengthen your child's attention span by encouraging the completion of an exciting, enjoyable game.
There are other sessions available for this class.
See All
Instructors: Lacey Ledlow and Lindsey White
Minimum: 2
Event Properties
| | |
| --- | --- |
| Event Date | Thursday, September 14 2017 2:30 pm |
| Event End Date | Thursday, September 14 2017 3:30 pm |
| Cut off date | Thursday, September 14 2017 12:00 pm |
| Individual Price | $25.00 |
| Location | Presbyterian Day School |