"As each has received a gift, use it to serve one another, as good stewards of God's varied grace." 1 Peter 4:10
To use our gifts to glorify God in a heroic way, we must first understand humility. The New York Times best-selling author Tim Keller has a short but powerful book on humility called The Freedom of Self Forgetfulness. In that book, he says, "The thing we would remember from meeting a truly gospel-humble person is how much they seemed to be totally interested in us. Because the essence of gospel-humility is not thinking more of myself or thinking less of myself, it is thinking of myself less." That's it: Humility is thinking of ourselves less. Once we get our ego out of the way, we are free to clearly see our gifts and the needs of others.
Here are three ways to help your kids be Humble Heroes:
1.

Help Them Know Their Gifts

Your children have incredible gifts. Remind them that they are made in the image of God, and their individual gifts include knowledge, talents, temperaments, affections, and faith. Their gifts also include their experiences and circumstances (whether positive or challenging). Also, don't let them forget that you and the other people in your household are gifts from God. Help them start a list of the gifts God has given them.
2.

Help Them Know The Source Of The Gifts

The most important thing about our children's gifts is the Giver. God freely gives us all things so that we will know him better. Giving credit to God for our gifts is one of the most basic ways we honor and worship him. The opposite is also true: When we fail to acknowledge God for what he has given us, we dishonor him. The Bible puts it in this way. "What do you have that you did not receive? If then you received it, why do you boast as if you did not receive it?" (1 Corinthians 4:7)

God is so good to us. He always goes before us and prepares a way (Deuteronomy 31:8). He is sovereign over all of our circumstances. Everything on earth is God's (Psalm 24:1), and all things are created and find their purpose in Christ (Colossians 1:16). Above all, he gives us his Son Jesus that we might live forever. "He who did not spare his own Son but gave him up for us all, how will he not also with him graciously give us all things?" (Romans 8:32). Help your child trace each of their gifts above back to God, the giver of "every good and perfect gift" (James 1:17).
3.

Encourage Them To Use Their Gifts For Others

Help your children see the needs of the world around them. We all have family members, friends, and neighbors in need. Ask them to tell you about a sibling or friend who is hurting. Discuss the world and current events with them. Read or watch the local news together. Use Operation World (online or with the book to see the needs of countries all over the world. Have them make a list of needs they can think of around them. Once they do that, have them match the list of their gifts with the needs of others. Pray with them about how they might act on this list.

Think about doing the same exercise yourself. Pray and trust God to lead you and your family to use your gifts for his glory.
Upcoming Events
Father/Son Dinner 2020
For Grades: 3rd Grade 4th Grade 5th Grade 6th Grade
Register by February 20.
Hosted by the PDS Parents' Association
PDS School Attire
Seating assigned by grade. Seating by grade not guaranteed after February 20.
Guest Speaker: Troy Kemp
Director of Transitions, Admissions, and Alumni Relations at the Ron Clark Academy and the Executive Director of the National Center for the Development of Boys
Troy is the Director of Transitions, Admissions, and Alumni Relations at the Ron Clark Academy and the Executive Director of the National Center for the Development of Boys.
Mr. Kemp joined RCA after spending the past 27 years at McCallie School. Troy's 29-year career in education includes serving as an award winning math teacher, championship football and lacrosse coach, computer coordinator, dorm parent, Dean of Admission, and Associate Headmaster for Enrollment and Marketing.
In 2016, Troy became the Executive Director of the National Center for the Development of Boys, a nonprofit organization founded by McCallie to equip parents, educators, coaches and mentors with research and strategies for helping boys thrive. Troy's work at the Center included speaking to over 22,000 people at 125 events in 41 cities, 11 states, and 3 countries.
Originally, from Riverhead, New York, Troy received a bachelor's degree in Mathematics from Colgate University, where he also played football.
7 Virtues of Manhood Breakfast - The Noble Knight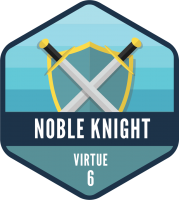 For Grades: 1st Grade 2nd Grade 3rd Grade 4th Grade 5th Grade 6th Grade
This year we want to give boys a chance to learn more about what it means to be a man while spending time with an adult that is teaching them about manhood. So, we are hosting a monthly breakfast focusing on the 7 Virtues of Manhood at school.
Our 7 Virtues of Manhood Breakfasts are for elementary grade boys (1-6) and their adult hosts.
Because of the nature of this breakfast, each boy must have an adult host in order to attend. If one adult is going to be hosting multiple boys, please enter them as part of the group registration, even if that person has already registered with another boy. For families with special circumstances, please reach out to me and one of the school based mentors will host your son, or we can discuss another option.
Meal Options
Breakfast: $5 for Chick-Fil-A Chicken Minis and Coffee, Orange Juice, or Milk
Agendas
7:00am

Breakfast with Boys in Fellowship Hall

You will sit with groups from your son's grade as much as possible.

7:15am

Hear what the virtue means from a 6th grade boy

Learn the virtue in more detail through a 7 minute lesson from one of our leaders

Spend the majority of the time working around the table with age appropriate questions and activities

7:55am

Breakfast Ends

8:00am

Boys Dismissed to Chapel

Adult hosts are welcome to join us for chapel from 8:00-8:30 in the sanctuary or depart after breakfast.