ACADEMICS
Pre-Kindergarten
A Pre-Kindergarten boy has a strong sense of self and thrives when allowed to explore in a well-structured learning environment. His natural curiosity and joy of learning are enhanced through hands-on discovery, and he actively seeks information through "how" and "why" questions.
His understanding of words and language becomes more complex, and he loves to sing and repeat nursery rhymes. He will readily express affection and is active and playful.
Self-regulation can be a challenge, but with the help of loving, patient teachers, he learns to express his wants and needs in appropriate ways, as he builds meaningful friendships. Every day is an opportunity to experience the splendor of childhood.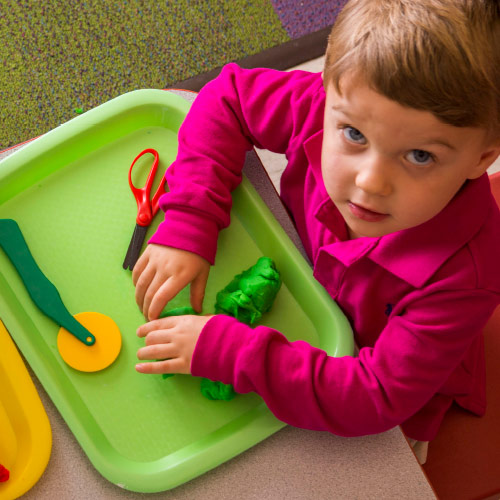 PK boys love to work with their hands — whether forming letters or constructing animals from Play-Doh.
Language Arts
Listen to stories and pretend to read
Understand that words convey a message
Recognize capital letters
Communicate and speak effectively
Contribute to discussions
Express ideas through conversation
Math
Count to 25
Identify numerals 1–10
Identify basic shapes and patterns
Continue and create patterns
Sort by attributes
Understand calendar, measurement, time, and graphing
Demonstrate one-to-one correspondence
Science
Identify nocturnal animals
Explore seasonal changes in weather and temperature
Explore changing states of water
Examine characteristics of snow and snowflakes
Study bugs, fossils, and pond life
Social/Emotional Development
Express emotions appropriately
Communicate needs and wants using words
Share and take turns
Make eye contact when interacting
Initiate and maintain play — independent, parallel, and group
Resolve conflict appropriately and show respect
Take responsibility for actions and belongings
Respond as a first-time listener
Demonstrate self-control
Participate and cooperate
Character Development
Show concern for others and respond in a kind manner
Complete tasks without boasting or bragging
Show leadership through acts of service
Show gratitude and seek forgiveness for mistakes
Fulfill responsibilities
Show respect for others
Display excellent manners