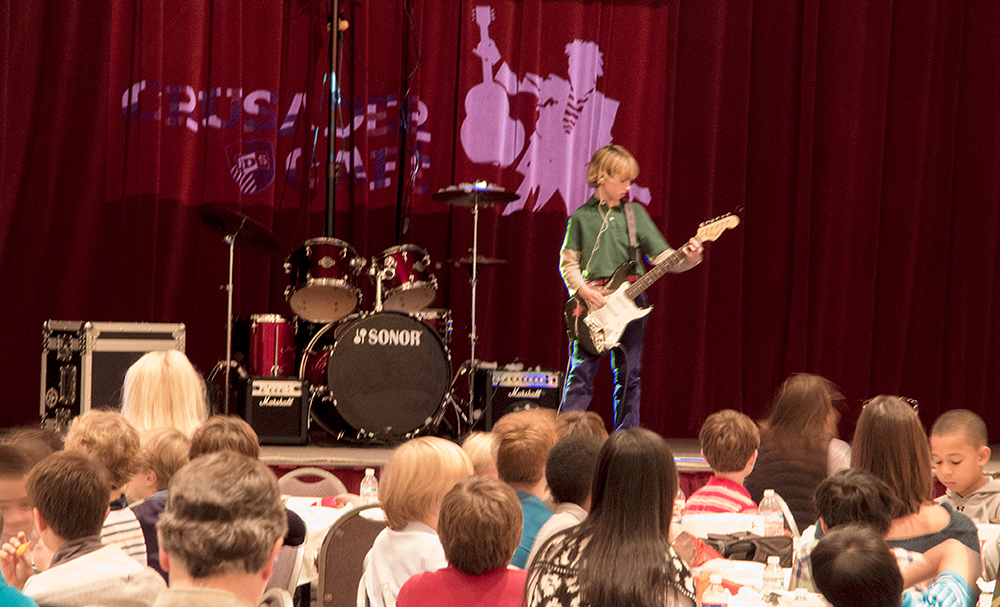 Welcome to the Crusader Cafe: Amidst the chicken sandwiches, chips, classical and classic rock music, and cheers, classroom lessons are stashed when no one's looking.
Read The Gift of Music - Crusader Cafe, for a primer on Presbyterian Day School's Crusader Cafe:
The Gift of Music
Crusader Café is back for another year!
Crusader Café is held during lunchtime and is a time where a boy can showcase his musical talents to his peers and others. Again, we will be dining and entertaining everyone in the Fellowship Hall.
Dates for the Café
Thursday, October 19
Thursday, January 25
Thursday, April 19
Thursday, March 1 - NEW
There are 2 requirements your son must meet in order to play at Crusader Café.
He must be taking lessons (If he is not taking lessons, he must audition for Mrs. Southerland)
He must be practicing regularly
"Practice isn't the thing you do once you're good. It's the thing you do that makes you good." Malcolm Gladwell Outliers
Please use the spreadsheets linked below to view available time slots (each date can have 5 boys maximum per grade signed up). Please enter your child's first and last name and his homeroom teacher's name on the date you would like.
1st Grade • 2nd Grade 3rd Grade • 4th Grade • 5th Grade 6th Grade
Today's chapel speaker was PDS Chaplain Braxton Brady.
This month, we are exploring the first of the Seven Virtues of Manhood: The True Friend.
True friends sacrifice for each other.
Why? Because Christ sacrificed for us.
Good morning!
I am looking forward to meeting with you all this Friday morning! Please let me know if you will not be able to attend, and I will email you the short presentation I am going to share. I also have a small packet of information that I will give you at parent/teacher conferences, if you are unable to attend Friday.
Parent/Teacher conferences are right around the corner. I am attaching a Google Doc of my schedule for conference week. The official "conference day" is Friday, September 22, but I also included other days and times that week. Please choose a time slot and sign up. First come, first serve! Click the link below to sign up.
https://docs.google.com/a/pdsmemphis.org/spreadsheets/d/1ffo0ilT_OcaB8YhBIwWkLb_vNzUfsK_lmDQcQ9kqMJo/edit?usp=sharing
See you soon!
Jessica Muller
We have been in class for a week now and I am really enjoying getting to know the third grade boys. In class so far we have talked about why we should learn a second language, how we learn languages, when we can use Spanish, and also what each student's goal is in Spanish class this year. We are going to strive towards helping each other meet our goals. They have agreed to help me meet my goal for my Spanish classes this year: to make Spanish class a safe place to make mistakes (mistakes are necessary in acquiring a second language, they are how we learn) and to make Spanish class a place where we learn AND have fun.
Looking ahead, after practicing several commands in class and getting more accustomed to routines, we will begin adapting the science curriculum to Spanish class. We will begin with the scientific method in mid-September, after the students fully understand it in English. We will learn about scientists and discover what makes a scientist great - what do they do, what are they like, where do they come from, etc.
I am thrilled to be teaching your boys and am anticipating a wonderful year of learning!