Half-Day Dismissal on Dec. 14
Thursday, December 14th is a half-day for all students. First graders will be dismissed at 11:15am 2nd-6th graders will be dismissed at 11:30am. After-School Care is available.
Christmas Pageant Details
On Thursday, December 14th at 6:30pm, the PDS Christmas Pageant for boys in grades 1-6 will be held in the sanctuary. The sanctuary will open at 5:45pm, and seating is on a first-come-first-serve basis. We appreciate your cooperation in not arriving before 5:45pm.
Live Stream
This event will be streamed live on the website for out of town friends and family members. Look for a link on the Parents page on Thursday December 14th.
Pageant Drop-Off
The boys should report to their homerooms at 5:45pm on Thursday evening. Boys in grades 1-5 should be dressed in white, long-sleeved dress shirts and khaki pants. The attire for the 6th-grade boys is based on their part in the program.
Pageant Pick-Up
After the program, the boys will return to their homerooms. A parent must pick up each boy in the classroom. If someone other than a parent will pick up your son, you must notify the teacher in advance. We will not release a boy to an older sibling.
Pageant Nursery
Because it may be difficult for young children to listen to the program, a nursery will be provided for children under the age of four. You must make reservations for the nursery via the PDS website.
Register For The Nursery
The deadline for making a reservation for the nursery is Monday, December 11th at 4:00 p.m.
We also request that all children attending the program remain seated in the pews with their parents for safety reasons.
Half-Day Dismissal, Christmas Parties on Dec. 15
Friday, December 15th is also a half-day for all students. Christmas parties in the Elementary Division will be held that morning. After-School Care is not available on Friday.
Classes resume on Tuesday, January 2rd.
Please note that if your son is enrolled in the 1st semester lunch plan/drink plan, he will be automatically enrolled and billed $505.00/$95.00 for the 2nd semester on January 1, 2018.
Tired of packing lunches every day? It's not too late to join the lunch plan!
Making Changes
To cancel or sign-up for the lunch program for the second semester: Sign-Up/Opt-Out Form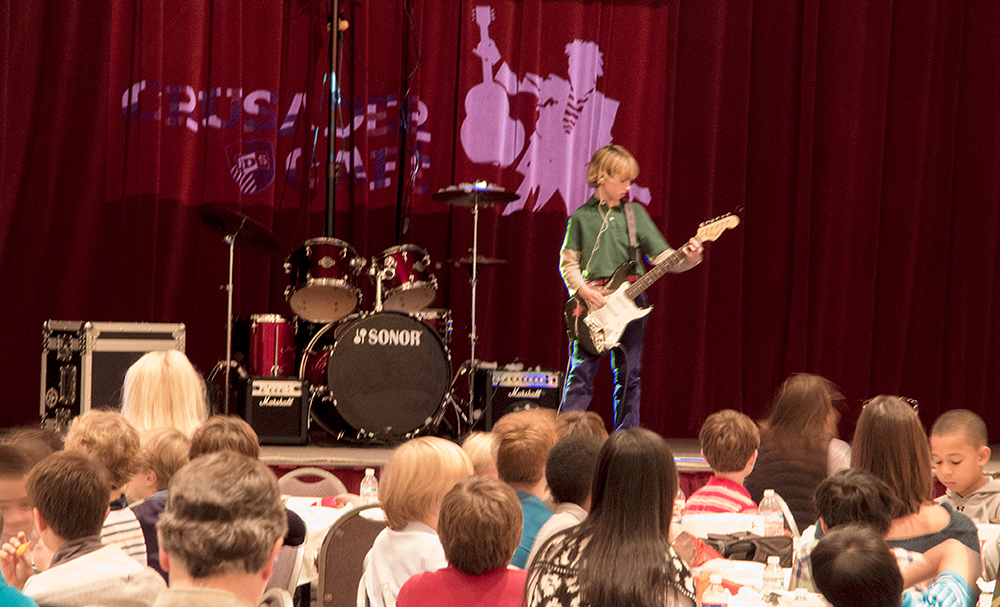 Welcome to the Crusader Cafe: Amidst the chicken sandwiches, chips, classical and classic rock music, and cheers, classroom lessons are stashed when no one's looking.
Read The Gift of Music - Crusader Cafe, for a primer on Presbyterian Day School's Crusader Cafe:
The Gift of Music
Crusader Café is back for another year!
Crusader Café is held during lunchtime and is a time where a boy can showcase his musical talents to his peers and others. Again, we will be dining and entertaining everyone in the Fellowship Hall.
Dates for the Café
Thursday, October 19
Thursday, January 25
Thursday, April 19
There are 2 requirements your son must meet in order to play at Crusader Café.
He must be taking lessons (If he is not taking lessons, he must audition for Mrs. Southerland)
He must be practicing regularly
"Practice isn't the thing you do once you're good. It's the thing you do that makes you good." Malcolm Gladwell Outliers
Please use the spreadsheets linked below to view available time slots (each date can have 5 boys maximum per grade signed up). Please enter your child's first and last name and his homeroom teacher's name on the date you would like.
1st Grade • 2nd Grade 3rd Grade • 4th Grade • 5th Grade 6th Grade
Today's chapel speaker was PDS Chaplain Braxton Brady.
This month, we are exploring the first of the Seven Virtues of Manhood: The True Friend.
True friends sacrifice for each other.
Why? Because Christ sacrificed for us.