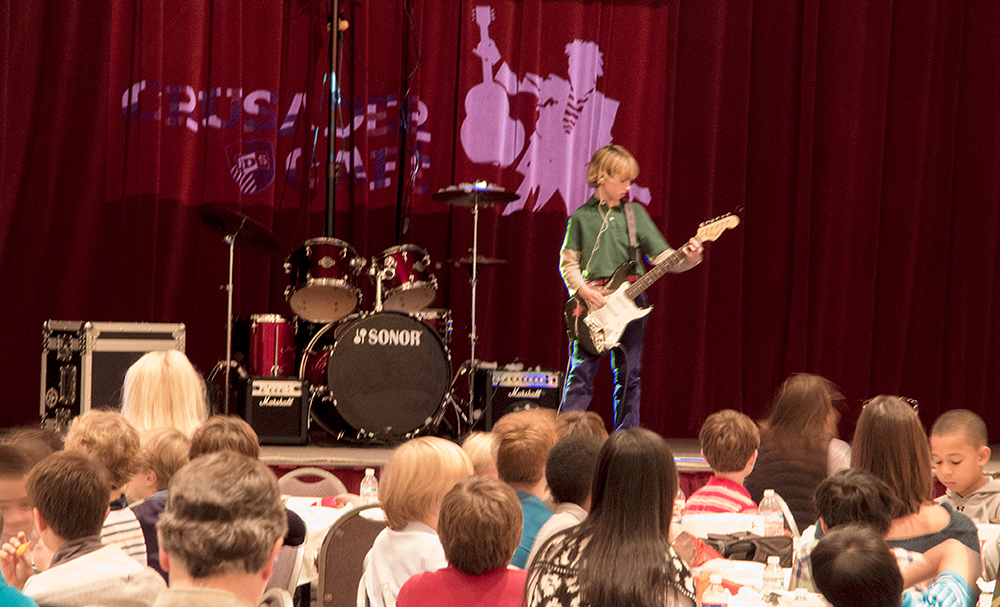 Welcome to the Crusader Cafe: Amidst the chicken sandwiches, chips, classical and classic rock music, and cheers, classroom lessons are stashed when no one's looking.
Read The Gift of Music - Crusader Cafe, for a primer on Presbyterian Day School's Crusader Cafe:
The Gift of Music
Crusader Café is back for another year!
Crusader Café is held during lunchtime and is a time where a boy can showcase his musical talents to his peers and others. Again, we will be dining and entertaining everyone in the Fellowship Hall.
Dates for the Café
Thursday, October 19
Thursday, January 25
Thursday, April 19
There are 2 requirements your son must meet in order to play at Crusader Café.
He must be taking lessons (If he is not taking lessons, he must audition for Mrs. Southerland)
He must be practicing regularly
"Practice isn't the thing you do once you're good. It's the thing you do that makes you good." Malcolm Gladwell Outliers
Please use the spreadsheets linked below to view available time slots (each date can have 5 boys maximum per grade signed up). Please enter your child's first and last name and his homeroom teacher's name on the date you would like.
1st Grade • 2nd Grade 3rd Grade • 4th Grade • 5th Grade 6th Grade
Today's chapel speaker was PDS Chaplain Braxton Brady.
This month, we are exploring the first of the Seven Virtues of Manhood: The True Friend.
True friends sacrifice for each other.
Why? Because Christ sacrificed for us.
Save the date for these upcoming Elementary Division Parent Parties! More information coming soon!
1st Grade - Friday, October 13
Melanie & John Alexander
2906 Iroquois
2nd Grade - Friday, November 10
Molly and Parrish Taylor
2020 Old Oak Drive
3rd Grade - Friday, September 29 • Sign-Up to Bring an Item
Jenny and Rob Carter
293 W. Goodwyn Street
4th Grade - Friday, November 3
Bethany and Keith Owen
4681 Shady Grove Road
5th Grade - Saturday, September 30 • Register
Carey and Brad Snider
411 Grandview Street
6th Grade - Friday, November 17
Brooke and Will Levy
4824 Gwynne Road
This morning's chapel speaker was Chaplain Braxton Brady. Coach Brady shared a story about a friend who lived near the Bradys when they were living in Binghampton.
This friend had a really nice car. He worked long hours and it was often late at night when he would get home. One night, as he was driving through the neighborhood, he heard a loud thud as something hit his car. Someone had thrown a brick at his car.
Photo Gallery