Hi Parents!
I hope everyone had a great weekend! Please take a look at what is coming up!
Emilee
A few reminders...
-Don't forget to send in your son's pumpkin by 10/17 for Pumpkin Math. A note came home in his orange folder last week. It needs to be a pumpkin that he can carry in by himself.
A peek at our week...
Spelling: Magic e in two-syllable words
Reading: Tedd Arnold author study and book clubs continue this week.
Math: Subtraction to 10, Rocket Quiz (+2) on Thursday
English: Singular and plural nouns and subject/verb agreement
Science: Water Cycle
Dates to Remember:
10.17.17 Pumpkin for Pumpkin Math. You may send it in early.
10.27.17 Grandparent's Day- half day dismissal
Have a great week!
Last modified on October 16, 2017
Check out what's going on in 1A!
In class this week:
Spelling: Long Vowels with Magic e
Reading: Boys will begin an author study on Tedd Arnold; This week we are focusing on the Fly Guy series; Skills-sequencing, beginning/middle/end. New book clubs start this wee also!
Math: Subtraction to 10, Rocket Quiz +0,1 (Thursday)
English: Singular and plural nouns
Science: Water Cycle
Things to Remember:
*Return all library books on Friday mornings.
*Fluency sheets and reading logs are due on Mondays. (Tuesday this week)
*Some fluency sheets are coming home with phrases on the back to practice all week, too. Don't forget the fluency sheet and phrase practice can be included on your son's reading log.
Important Dates:
Oct 27- Grandparents Day (1/2 day)
Last modified on October 9, 2017
It is hard to believe that it is October! This week will be an exciting one for the boys.
-On Monday, we will have book club and review skills covered this year. There will be no new spelling skill this week.
-Tuesday and Wednesday are STEAM days at PDS! The boys are looking forward to these breakaway days.
-No homework this week besides filling out a reading log. If your son reads 75 minutes this week and turns in his log on 10/10, he can take a trip to the treasure box!
Dates to Remember:
October 5-9: Fall Break
October 27: Grandparents' Day (half-day dismissal)
Have a great week and a wonderful fall break!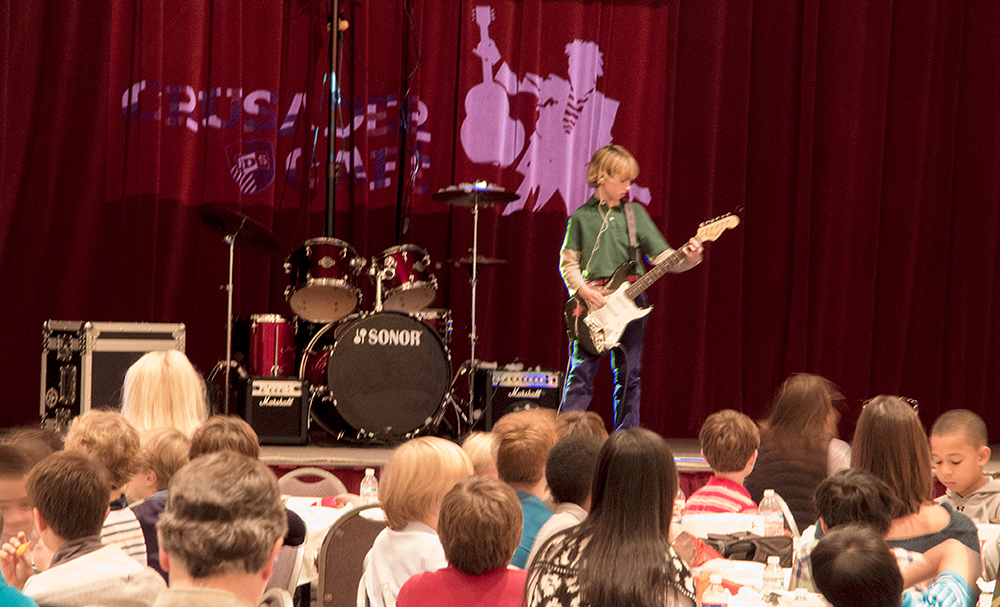 Welcome to the Crusader Cafe: Amidst the chicken sandwiches, chips, classical and classic rock music, and cheers, classroom lessons are stashed when no one's looking.
Read The Gift of Music - Crusader Cafe, for a primer on Presbyterian Day School's Crusader Cafe:
The Gift of Music
Crusader Café is back for another year!
Crusader Café is held during lunchtime and is a time where a boy can showcase his musical talents to his peers and others. Again, we will be dining and entertaining everyone in the Fellowship Hall.
Dates for the Café
Thursday, October 19
Thursday, January 25
Thursday, April 19
There are 2 requirements your son must meet in order to play at Crusader Café.
He must be taking lessons (If he is not taking lessons, he must audition for Mrs. Southerland)
He must be practicing regularly
"Practice isn't the thing you do once you're good. It's the thing you do that makes you good." Malcolm Gladwell Outliers
Please use the spreadsheets linked below to view available time slots (each date can have 5 boys maximum per grade signed up). Please enter your child's first and last name and his homeroom teacher's name on the date you would like.
1st Grade • 2nd Grade 3rd Grade • 4th Grade • 5th Grade 6th Grade